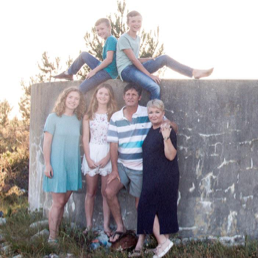 [HUMANSDORP]
HENNIE EN GRISELDA STRYDOM MET JANNES (11), OBERT (13), DONÉ (19) & ELZKE (17);
We are the Strydom family of six, living our best life on our dairy farm on the outskirts of the Tsitsikamma, overlooking the picturesque Kouga mountains near Humansdorp and Jeffreys Bay.
When we started homeschooling our four children in 2012 we had no idea what it would unlock for us. The journey taught us a lot about how our children learn best, what their passions are, and that true education goes beyond academics.
"Educating the mind without educating the heart is no education at all" - Aristotle

Over the years we have learned that the power of homeschooling is to shape hearts and that intentional relationships are the foundation there of. We learned to weave education into our everyday life and to fill our lives and the lives of our children with a passion for the things we value in life: farming, nature, books, and pursuing deep relationships with family, friends and God.
Our passion is to equip other families to make the most of this amazing journey and to grow faith, grow family, grow fun, and grow relationships…..intentionally.