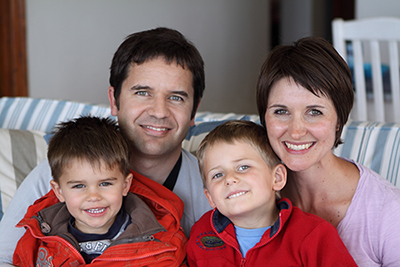 Families Interested In Marriage Counselling
Our walk with Martie started in December 2002, a year before we got married. We visited her in Clarens to attend a homeschooling seminar and never realized that we would forever be challenged and transformed as a couple. Martie's input in our relationship as husband and wife, as well as with our children, has proven to be of exceptional value over the past 10 years. Martie did both a learning style and brain profile analysis on both of us, which enabled us to understand so much about each other's personalities, preferences and how we react when we're stressed, tired and excited! She provided us with practical and "user-friendly" tools to apply in everyday life as well as in unexpected bends in the road. Without the knowledge we gained, we would have battled to communicate, support each other, handle stressful situations, resolve conflict and express concerns and needs. We also would have lacked a sense of humor in so many trivial conflict situations!
When we think back over the past few years, the moments of TRUTH decorate our story - we call it moments of TRUTH because all Martie's advice, tools and encouragement have always been based on the Word of God, which in our opinion and experience is the only TRUTH. Along with this, Martie has also committed her time, energy and wisdom into what God has appointed her to do with us, as she has done with so many other families. She has walked this road with us since the beginning and trained, corrected and encouraged us along the way without hesitation; she keeps us accountable and continues to pour her wisdom into our forever changing lives.
We are grateful, firstly to God, for appointing Martie as a mentor to us, and secondly to Martie, for being obedient in discipling us through the power of the Holy Spirit.
Enriko and Annene